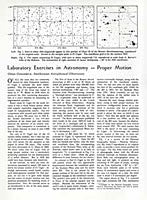 Lab Exercises in Astronomy: Proper Motion
The distance to the stars strains the imagination. But watch long enough, and you can actually calculate the distance to some nearby stars using parallax. In this lab exercise, students find the shift in 16 Cygni's position by comparing an 1855 star chart and a photograph taken 96 years later and are thereby able to calculate this star's distance.
On a Bonner Durchmusterung chart (for Epoch 1855.0), the position of the famous binary 61 Cygni is measured with reference to fainter, presumably more distant neighbors; the process is repeated for a field picture taken in 1951 with the 48-inch Schmidt telescope of Palomar Observatory. The difference in position of 61 Cygni over 96 years yields its proper motion across the sky.
LE006