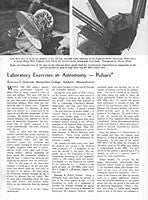 Lab Exercises in Astronomy: Pulsars
This astronomy lab teaches students about pulsars and how they interact with the gas and dust between stars. Students will make measurements of radio observations to determine the periods of three pulsars. Then they will calculate how the interstellar medium disperses the pulse arrival times at various frequencies.
The exercise is based on observations of three pulsars made at the National Radio Astronomy Observatory. Recordings are provided of radio power received from PSR 0809+74, 0950+08, and 329+54 on as many as four frequencies (234, 256, 405, and 1420 megahertz). The student makes precise measurements to determine the period at which pulses recur, studies a currently favored model of a pulsar, and determines the pulse dispersion or difference in pulse arrival times at the various frequencies. This leads to estimating each pulsar's distance. Prepared by Kurtiss J. Gordon of Hampshire College.
LE007