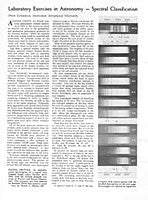 Lab Exercises in Astronomy: Spectral Classification
Just reading about how astronomers use the spectra of stars to learn their physical and chemical secrets can't compare with taking samples of such spectra and classifying the various types for yourself. This exercise is based on a large objective-prism photograph of a region of the Milky Way near Gamma Cygni, taken with a 24-inch Schmidt telescope. The student compares 30 numbered spectra and a dozen detailed reproductions of standard spectra, covering the entire spectral sequence from not WN and O stars through classes B, A, F, G, K, and M. The text elaborates on the clues by which the classes are recognized and a star's position within a class refined. The exercise contains considerable information concerning chemical elements in stars and the role of temperature in the apparent abundances.
Click here to see the separate Answer Sheet for Spectral Classification Lab.
LE002