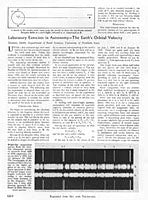 Lab Exercises in Astronomy: The Earth's Orbital Velocity
We all know Earth orbits the Sun, right? But what's the actual evidence? In this lab, the student will work directly with detailed spectra of Arcturus, taken six months apart, measur the Doppler shift of spectral lines in these spectra, and determine Earth's velocity.
On two high-dispersion spectrograms of Arcturus taken six months apart, the positions of selected absorption lines are measured accurately. In one case the lines are shifted to the violet (shorter wavelengths) as the Earth approaches the star; in the other case they are shifted to the red. These Doppler shifts are measured to 0.1 millimeter and calculations made to obtain the star's motion related to the Sun, the Earth's orbital velocity, and the Earth's distance from the Sun. As many as seven lines can be measured, increasing the accuracy of the results. Prepared by Darrel B. Hoff.
LE005