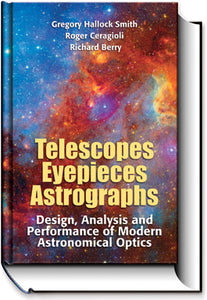 Telescopes, Eyepieces and Astrographs
By Gregory Hallock Smith, Roger Ceragioli and Richard Berry
Product Information: Hardbound, 6 by 9 inches, 596 pages.

Telescopes, Eyepieces and Astrographs: Design, Analysis and Performance of Modern Astronomical Optics is about every optical element between your eye or your imaging sensor and the night sky. Three expert authors have optimized designs found in today's astronomy market, explored the origins of different systems, analyzed their optical properties and assessed their performance — and in this book, they present it to you in terms that a non-specialist can understand and put to practical use.

Telescopes come in many varieties: but which best meet your needs? Each has good points and bad, advantages and disadvantages, advocates and detractors. Advertisements flash technical terms at the prospective buyer — but what's genuine technical talk and what's baseless sales talk? This book systematically explores each type of telescope, eyepiece, and optical accessory on the market today, and tells you what's inside it, what it does well, what it does poorly, and what performance you can expect if you buy that type of telescope from a reputable telescope maker.

As a telescope buyer, you can assess properties like size, weight, compactness, and price because the upsides and downsides are fairly obvious. But what about the weaknesses that advertising copy never mentions? Field curvature and spherochromatism are seldom understood and appreciated. Will these affect your visual viewing pleasure? How much will they affect your CCD images? This book explores and explains subtle factors that you easily miss without informed help from the experts.

That seemingly simple question, "What's the 'best' telescope for me?" ever plagues the novice and perplexes the expert. Defining the "best" forces you to address the question, "How will I use this telescope?" We can't answer that question — but in this book, you will find the technical answers you need as we explore the strengths and weaknesses of telescopes, eyepieces and astrographs in the context of their best use — where they shine and where they do not shine. Practically every type of design currently marketed (or built by amateurs) is covered.
WBTEA